Australian Owned

Locally Stocked

FAST & FREE DELIVERY*

Phone support
How to stop the spread of bacteria with the right door hardware
Author: Digital Eagles Date Posted:11 February 2020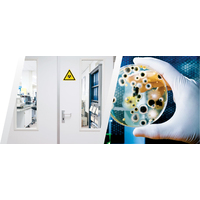 In environments where there's significantly high traffic (generally in commercial buildings), the risk of bacteria spreading is always higher.
These potentially harmful inhabitants live on surfaces of all kinds – from doors through to fittings and within door seals. With a simple touch, humans unknowingly spread these germs.
Luckily, advances in door hardware mean you can stop bacteria in their tracks. With brands like Kilargo offering new ways to incorporate antimicrobial technology into your entry points, your business is effectively able to control these infestations. In some cases, these solutions can even provide up to 99.99 percent protection against bacteria overall.

Here's what you need to know about this type of door hardware.
What are antimicrobial door seals?
Like those offered by Kilargo, some seals are now created with specially designed protection in environments that need to mimic clean room atmospheres.
These designs are most suitable for:
Childcare centres

Schools

Labs

Hospitals

Medical centres

Aged care or nursing homes

Places where food is handled.
They're also particularly useful in warding off bacteria relating to E.Coli, Salmonella or MRSA. But perhaps the biggest advantage of all is that antimicrobial door seals give those in the environment greater peace of mind across the board.
How do they make a difference?



Because bacteria is transmitted through touch and skin-to-skin contact, it spreads extremely quickly. However, it can also live on surfaces like doors and fittings (like door seals, glazing etc).
Traditional seal designs often give bacteria a safe place to live and can become hard to keep clean. Luckily, modern antimicrobial seals – like this option – generally offer an easy-to-wipe surface and a structure that bacteria aren't too fond of.
The active ingredients used in the manufacturing process of these products give the designs the ability to ward off bacteria and stop access to much-needed nutrients. Eventually, if bacteria is present on the surface, they will starve.
Choosing the best type for you
Brand like Kilargo use rigorous testing techniques to ensure absolute confidence and peace of mind, especially when it comes to the health and wellbeing of those in the environment. Specifically, the brand uses SteriTouch® technology that's individually verified through an independent party, and tested by trusted antimicrobial labs within the UK and Japan.
If you're not sure what kind of door hardware you need to ensure you're stopping bacteria in its tracks, we recommend getting in touch with Keeler now, or by downloading Kilargo's product brochure.
Call us on 02 9712 4550 to find out more. We're always more than helpful to offer reliable advice and guidance towards your needs.
---
Leave a comment