Australian Owned

Locally Stocked

FAST & FREE DELIVERY*

Phone support
Spring Into DIY Action with Keeler Hardware's 2019 Product Range
Date Posted:22 September 2019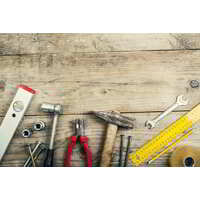 Spring is officially here and we know what that means … mum has gone into "Marie Kondo" mode and is madly decluttering. The kids are drowning out the sound of the Dyson with their AirPods …
and dad's hiding in his man cave, watching the footy finals while pretending he's getting into one of the DIY projects that's been lined up for him ...
You can guess how that is going to end. But relax, dad, because spring really is the perfect time to tackle that kitchen makeover you put off over the cooler months. And the good news is, we've made life easy for you with our Spring 2019 product range. We've done all the prep work, bringing together a great selection of high-quality products crafted by well-known, reliable brands.
So sit back, pull out the Visa, and show The Boss you're ahead of the game before she also remembers the spare room door handle needs replacing.
Current kitchen and bathroom favourites
The "KonMari" method that people have gone crazy for in 2019 is all about minimalism: an impeccably organised house with beautifully finished rooms. Minimalism was also the buzzword at the 2019 Milan Furniture Fair, a mecca for interior decor, along with curves and oval shapes as a design feature. For kitchens and bathrooms, matte black and industrial metal (brass and nickel) accents and fixtures are on trend this year.
If this is all getting a bit much for you, don't worry; chances are the wife speaks fluent Shayna Blaze. Just let her know that Keeler's Cabinet Hardware range will get the whole family sorted with sleek, stylish options for every room in the house.
The best picks of the bunch
Kitchen: Give your kitchen a Spring 2019 facelift with popular brand Zanda's drawer pulls for cabinet handles. The Dalkeith and Plato cabinet handles are available in Brushed Nickel, lending them a contemporary feel.
Pared-back hardware will add clean lines to your kitchen. With options for every size and scale of kitchen (and budget), some of our favourites include the subtle Castella Minimal Scoop cabinet handle; geometric Zanda Anglo Kitchen Knob and Madinoz Stainless cabinet handles. These sophisticated pieces are available in finishes such as Satin Chrome, Polished Stainless Steel and Dull Brushed Nickel. Bathroom: Explore the new season's styles with matte black knobs, handles and pulls that add a dramatic accent to neutrals or tone in with an all-dark palette. The Kethy Square Hook and Zanda Marco cabinet handles make quite a splash. If you want to go in the opposite direction and inject some glitz, check out the Kethy Bling series, including cabinet flush pulls with glittering crystal glass adorning zinc. It's ideal for channeling your inner Kardashian – just double-check with the Boss before you add it to the cart! The kids' rooms: screen the sounds of Post Malone behind a bedroom door that features trendy teen-appropriate doorway like Nidus' slick matte black Lonsdale set. The Lonsdale is available in both passage and privacy options, depending on how much "personal space" your children need.
A classic style for all rooms
If your style is more Classic Kate than Modern Meghan, Keeler Hardware's range includes cupboard, cabinet and door handles and drawer pulls that match perfectly with traditional furniture or Nan's antique cabinet.
We're delighted to stock European designer items sourced by Australian-owned Castella. This includes the Nostalgia and Heritage collections of cabinet handles and knobs designed to complement art deco and French Provincial-style kitchens.
And that spare room door handle? Tradco's elegant Oxford will impress even the most critical of mothers-in-law. It's available in a variety of finishes including Antique Brass, Aged Copper, Rumbled Nickel and Matte Black; and with rectangular, oval and concealed lever options.
With so many stunning possibilities just a few clicks away, the dream of a home that Marie Kondo herself would be proud of will soon be a reality. As for dad… well, his footy team might make the finals next year.
---
Leave a comment