Australian Owned

Locally Stocked

FAST & FREE DELIVERY*

Phone support
The ultimate buyer's guide to door handles and locks


Looking for a new door handle or lock? Before you lock yourself into a handle that doesn't fit, there are some essentials to get to grips with. With 50 years' experience in helping builders and home renovators pick the best accessories for their projects, the team at Keeler Hardware have four key tips.
1.Understand the basics
Ahead of walking into a store or clicking on an online cart, take a deep breath. You need to consider:
Function: Do you need to be able to lock the door?

Front and back doors should have an entry door handle set with a key. For internal doors requiring locks, use a privacy set with a button or turn-piece locking function. If no lock is needed, try a passage set or "dummy set" in areas like hallways and linen cupboards.
Knob vs. lever
Both have advantages. If dexterity and strength are an issue, levers require less grip than knobs. Otherwise it can come down to personal style and which look you prefer.
Handing
Door handing is the way the door swings, usually outwards or inwards. This is critical to take into account. If you don't check first, you could end up with the lock on the wrong side of the door or upside-down levers.
For most residential applications (from Australian suppliers), the below images will help you determine your handing requirements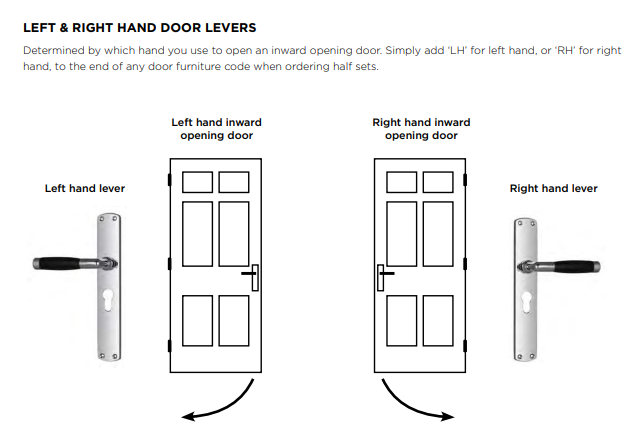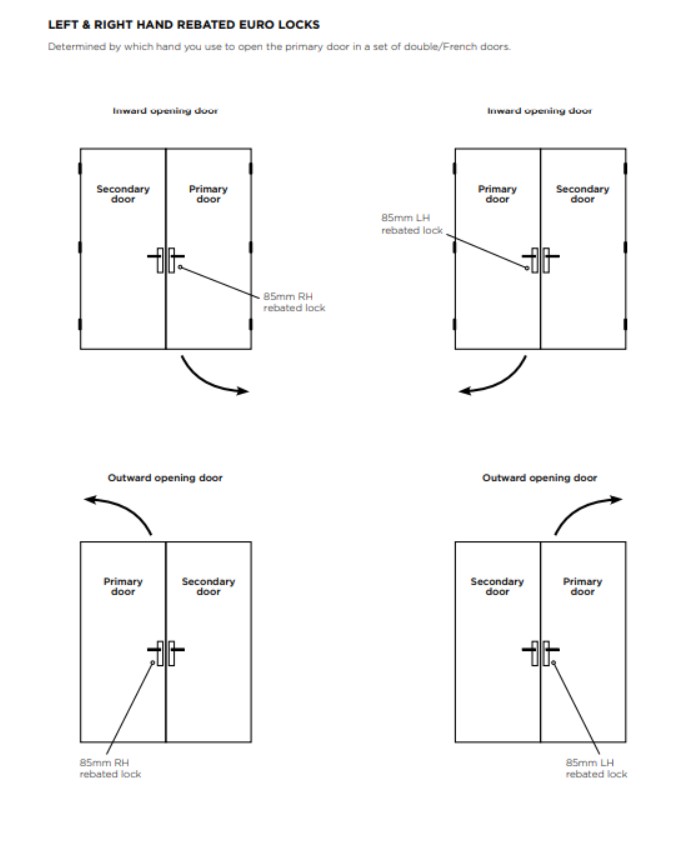 2.Measure up
Measuring the main door elements before buying a handle is important. The most fundamental elements include:
Backset
This is the distance from the centre of the door handle to the edge of the door. Standard options in Australia are 45mm or 60mm, but some door hardware comes with adjustable versions.
Bore hole and cross bore
The cross bore is the hole going through the door, from one side to the other. This is where the door knob is mounted. Standard measurements are 2 1/8" bore hole and 1" cross bore. If your doors have different dimensions, it's best to talk to a door expert like Keeler Hardware.
Door thickness
Door thickness varies, with exterior designs typically being thicker than interiors. The standard range is 1 3/8" – 1 3/4" (35mm - 45mm).
Additionally, some knobs work better with different measurements. Taking the time to scope the specs upfront will save you energy and money in the long run.
3.Select your style
Chrome, acrylic or steel? Within our range, we have a number of options for door architecture, design for all tastes and budgets.
For a contemporary flair, consider up-to-the-minute Zanda and Nidus ranges in a wide variety of materials and designs. Sleek lines and stunning finishes, from satin to matte black, will style your doors and set the tone for every room or front entrance.
Tradco specialise in classic design, like the wrought iron Twist Pull or Edwardian Polished Brass. With so many options on hand, you can mix and match throughout your house or go for a uniform look to create cohesion.
4.Consult an expert
There's more to doors than you might think. To unlock the possibilities, call the specialists in door solutions at Keeler Hardware. We're always more than happy to provide you with reliable advice and guidance.
---
Leave a comment