Australian Owned

Locally Stocked

FAST & FREE DELIVERY*

Phone support
How to Select the Right Door Handles for Style, Function & Security
Date Posted:19 January 2022


Each room in our homes hold their own purpose, and either continue the designs of the wider property, or embrace something completely unique.
But take a step back, and realise that your doors are going to be the first impression you offer for this space. As such, properly selecting the right door handles can greatly enhance both the style, function, and security of your entire home.
This is no easy feat; door handles are available in many different designs, materials, sizes and price ranges. Regardless of whether you are building a new home, or mid-way through planning a renovation project, if you have already found the ideal doors for each room in your house, chances are you might be feeling overwhelmed by the number of choices made available to you for door hardware – not to mention the industry jargon used to describe them.
To help, the team at Keeler Hardware have compiled this comprehensive guide on how to select the right door handles for your property. We have decades of experience in the industry, and provide various insights and points of consideration around the style, function, security, installation, ongoing maintenance, and budget of the options available to ensure you find the perfect solution for your needs.
Style
As you have completed other areas in your new home build or renovation project, you have likely selected various styles or themes to embrace within your property. If so, then you will simply need to continue this to your selection of door handles. Popular styles include:
Victorian:

characterised as a symmetrical design which was popular in the late 1800s and early 1900s, featuring a selection of gables and peaks for decoration, large bay windows, front doors hidden within an overhanging porch, ornamental columns for decoration, and decorative wrought ironworks.

Mid Century Modern:

popular in the mid-20th century, distinctly unique with the use of post and beam construction, plate glass windows, open floor plans, minimal decoration, and a functional layout.

Colonial:

inspired by the classic architecture of America's first colonisers, featuring symmetrical appearances, detailed exterior designs, large windows, and a heavy reliance on wood for frames and panelling, and brick for the façade.

Hamptons:

a modern update on the colonial style, these homes are larger, more luxurious properties, consisting of light colours, wood floors, high ceilings, and modern, stainless-steel appliances.

Art Deco:

arriving in the early twentieth century, this adopts more linear, geometric designs with a high style interior decoration, alongside an abundant use of chrome with appliances and dark wood or marble countertops.

Contemporary:

purposefully modern, embracing clean lines and a lack of ornamentation, these homes love an open floor plan with large windows and functional layouts.
Handle Type
You can find handles that suit a variety of styles, embracing long curves, holding sharp angular lines, or decorated in beautiful ornamental patterns. In the end, however, there are two main types of handles to choose from; one is the levered handle and one is the knobbed handle.
Although they both get the job done, there are many benefits to using either type in a certain application:
Lever Handles
Works well for contemporary styles and themes, especially those originating from Europe

Also, excellent options for glazed doors and those that cannot accept locks with deep cases

Available in an extensive range of backplate options, offering the ability to also include keyholes, bathroom turn and release features, and more

Provide greater ease of use and ergonomics, especially for children and those with disabilities or medical conditions, such as arthritis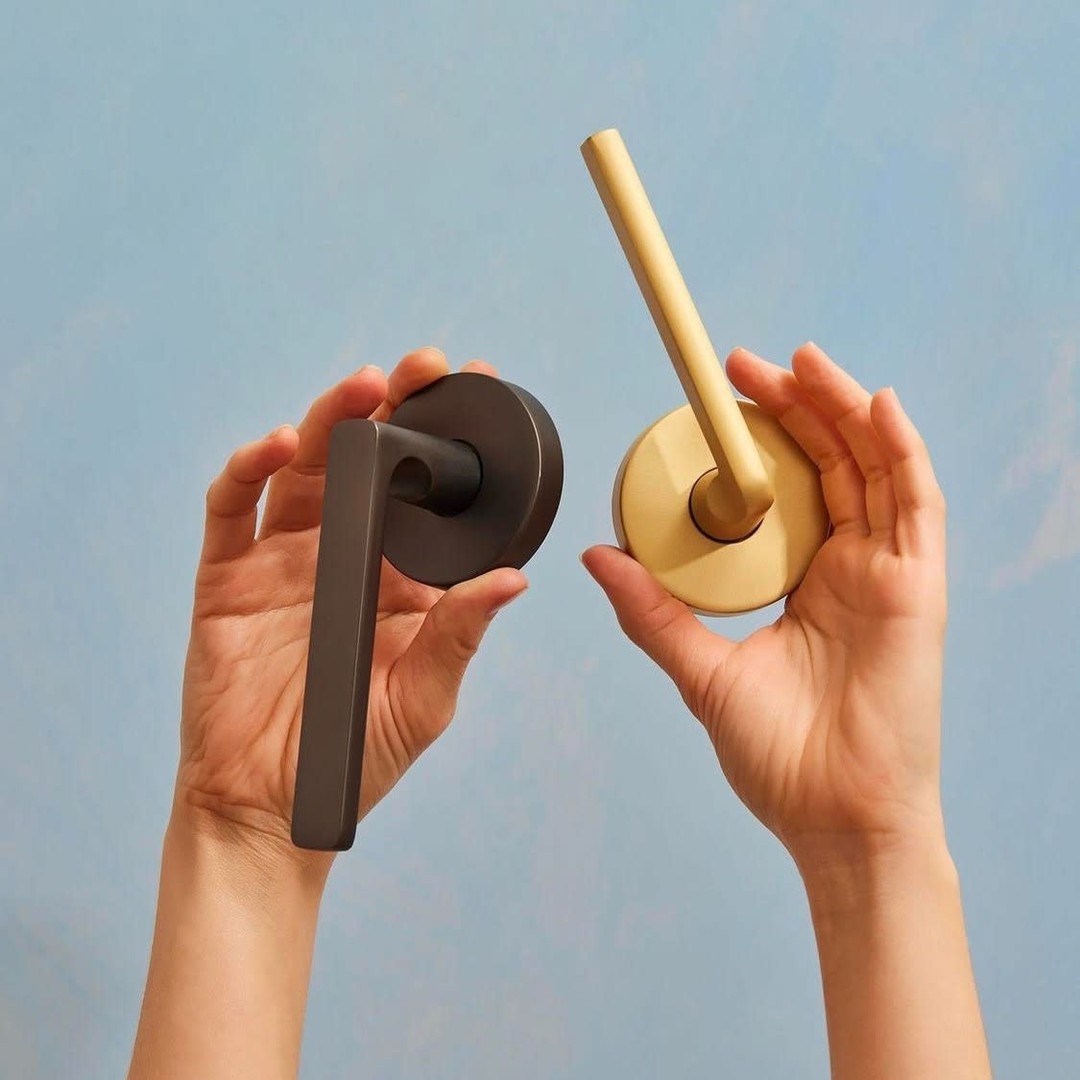 Knob Handles
Work well for period styles and themes, especially in older properties with doors fitted with surface mounted rim locks

Ability to operate the latch from turning the knob both clockwise and counter-clockwise

Work seamlessly within similar hardware on cabinets and drawers

Oval and egg-shaped knobs allow for greater grip strength to be applied, making it easier to use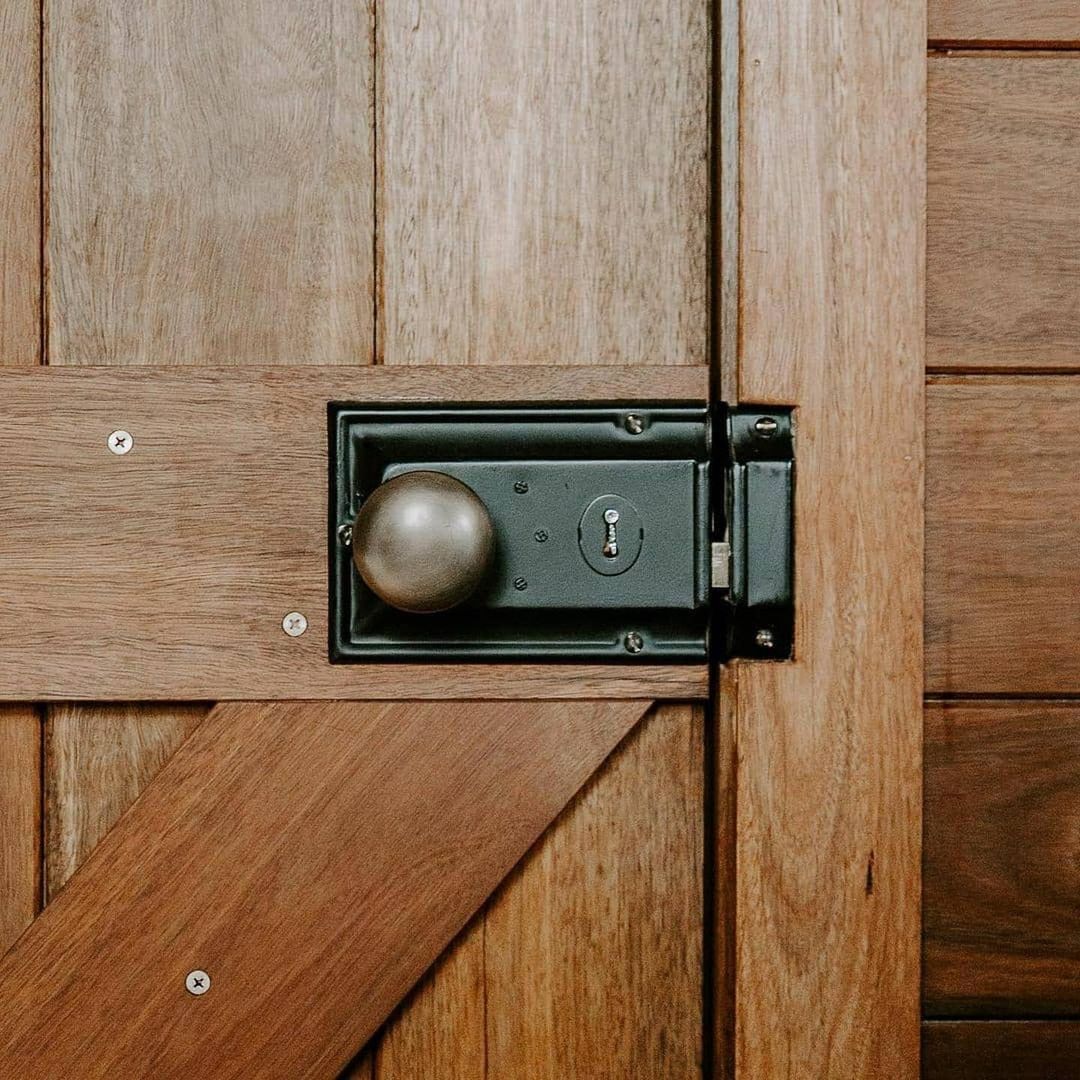 Finishes
The handles on your doors, cabinets, windows and drawers are just as important as the finishes found throughout your home. Creating a cohesive look throughout different areas of your property is crucial to achieving an overall pleasing décor. When purchasing new hardware for each of these items, try to remain consistent with your choices in finishes, and remember that variation in brands is bound to occur, so be diligent in your research before selecting aesthetically ill-fitting pieces. If possible, select the same manufacturers/brands to purchase your door handles that you did for your cabinet hardware, to ensure finishes are consistent. These include:
Polished Brass
Polished brass is an alloy made of copper and zinc, which produces a striking golden shine. The hardware has been lacquered to seal the metal against tarnish, so it can withstand daily usage without wearing down. Unfortunately, this protective coating also makes smudges easy to see, increasing the need for regular cleaning. The lacquer will wear away over time, allowing the brass to tarnish naturally, creating a unique vintage charm that works excellently in period styles.
Unlacquered Brass
Unlacquered brass refers to hardware that is not coated with lacquer or another protective layer. This material naturally oxidizes over time and the patina changes as it reacts with air, water, and oils, providing a raw, rosy, rustic style to a space. Over time, the edges can develop a signature worn look that tells the story of how it was used. It will, however, require more maintenance and upkeep, with brass cleaner needing to be applied frequently to prolong the desired shine.
Unlacquered Brass Hardware can really complement the contemporary or industrial-style decor, where no frills are required. It will provide a rustic element that would look great especially in a kitchen or bathroom space.
Antique Brass
Antique brass is a type of copper alloy that is made primarily with zinc. The matured colouration is achieved through the use of special chemicals, which helps it to create its own patina effect. It has an aged lustre finish and gives off the impression of reverence. Most often individual pieces will have their own unique colour, but they all share this distinct tone.
Antique brass hardware offers individuality in terms of aesthetic value, and is a metal that works perfectly with antique designs. As the product does not need replacing, it offers longevity in addition to this style choice even when compared to other materials that age well like copper or bronze.
Satin Brass
Satin brass is a metallic alloy that showcases noteworthy strength, malleability and corrosion-resistance properties. Its appealing golden lustre evokes a subtle sheen, rendering its presence rather delicate without the glossy nature of other polished brass products.
The practical applications of satin brass cover a wide range from hardware to ornamentation. Because it's both durable and long-lasting with its highly protective lacquer coating, satin brass is ideal for use in both interior and exterior settings.
Stainless Steel
Stainless steel is durable, easy to maintain and corrosion-resistant. It's also versatile because it can be used in residential and commercial applications. The finish can work with almost any architectural style, including modern and contemporary homes. Given its strength, many homeowners enjoy introducing stainless steel door handles in both indoor and outdoor settings matching their appliances, easily maintained with regular polishing to minimise surface scratches and smudges.
Polished Chrome
Polished chrome is a special surface treatment on raw, or unpolished stainless steel. It is the most popular and versatile of all stainless-steel options, primarily because of its shiny reflective properties. The sleekness provided makes it an ideal material choice for door handles in areas that are subject to moisture build-ups, such as bathrooms and kitchens. It readily repels water droplets after being exposed to them, which helps maintain the clean aesthetics. The shine created by polished chrome also looks beautiful at any angle, providing incredible depth effects when light hits the surface.
Due to the popularity of this material, it is used in many commercial and residential spaces. Most kitchen appliances, bath fixtures and door hardware come standard with a polished chrome finish for additional durability. Door handles with this material can pair with finishes found on refrigerators, faucets, cabinets, light switches, and backsplashes just to name a few applications.
Satin Chrome
Satin Chrome is a type of chrome plating that uses clear chromium to deposit over an undercoat of velvet nickel. The result is a lustrous, yet less reflective surface that provides more contrast to whatever object or area it coats. With its soft blue hue, satin chrome has seen increased demand in the residential and commercial spheres for its aesthetic appeal without compromising room space. This makes it a popular choice in modern properties for doors that may otherwise look out of place without a contrasting background or frame around them.
Matt Black
Matte black is a modern, yet timeless style choice for elegance. Whether this look is achieved through powder coating or a special aging process, matt black will never go out of style. When properly maintained, this material is extremely durable, however can prove prone to scratching when coming into contact with sharp items, such as tools used during the installation of these door handles. The material itself is smooth and sleek where it counts, but rough around the edges to improve grip.
Gunmetal Grey (Graphite Nickel)
Combining a seamless mixture of chrome and matt black finishes, gunmetal grey is a captivating style offering a long-lasting option for door handles that blend with modern surroundings. Similar to the susceptibility of matt black to show chips and scratches, this finish still remains dark enough to hide a variety of marks and smudges, requiring only minimal ongoing care and maintenance.
Satin Nickel
Satin nickel handles offer a welcoming glow to your doors, thanks to a golden hue achieved by a lacquered shine. This pairs well with neutral, stainless-steel appliances found in contemporary properties.
Low-lustre lacquer is applied after initial plating is finished, offering both greater durability, and the shine to boost the natural, dull appearance. This also means that only a small amount of ongoing cleaning is necessary to prevent the build-up of marks and smudges.
Polished Nickel
Polished nickel is a metal product that consists of a polished brass base with an outer coating to change the tone. The material is durable and resistant to tarnishing, which makes it easy to maintain for years - even decades. These pieces serve as accents and come in different tones such as clean silvers, gold and champagne, complementing the tones of other metals used on appliances and furniture.
Nickel products are known to be extremely durable, often used to bring strong aesthetics to applications needing reliable wear resistance. It also does not typically tarnish, leaving minimal needs for ongoing maintenance or a lacquer coating to prolong the life of the product. The metal can also be buffed and polished back into perfect shine if it does get scratched over time. It is also resistant to corrosion and rusting due to its alloy properties.
Antique Copper
If you are searching to embrace more natural, earthy tones that are steeped in the dark brown roots and rustic ambience of the period, country properties, consider antique copper finishes for your door handles. With unmatched strength and resistance to corrosive elements, you do not need to concern yourself with the possibility of rust, thanks to little iron content, but it can accumulate dirt and contaminants, so be sure to maintain regular cleaning schedules.
Matching Your Surroundings
While you may be partial to certain designs and particular styles, it is important to also consider how they will match with your surroundings. Should you have an affinity for the brass options above, you will find they only work well in a home that embraces a lot of warm, natural hues, steeped in more period architectural styles. Conversely, if you are looking for a more contemporary style, such as the Hamptons look, then you may need to think more along the lines of the cooler colour schemes and consider stainless steel and chrome handle options.
And it isn't just about the colour of the walls and furniture and decorations around you, either. Consider how your options will work in likely weather conditions. Tropical zones must contend with extensive periods of high humidity, not to mention a considerable dosage of sea salt on the wind – again, stainless steel and satin chrome might be the more durable, corrosion-resistant options for you to minimise upkeep. Alternatively, homes in more inner-city suburbs with more stable climates can experiment with period designs and associated hardware.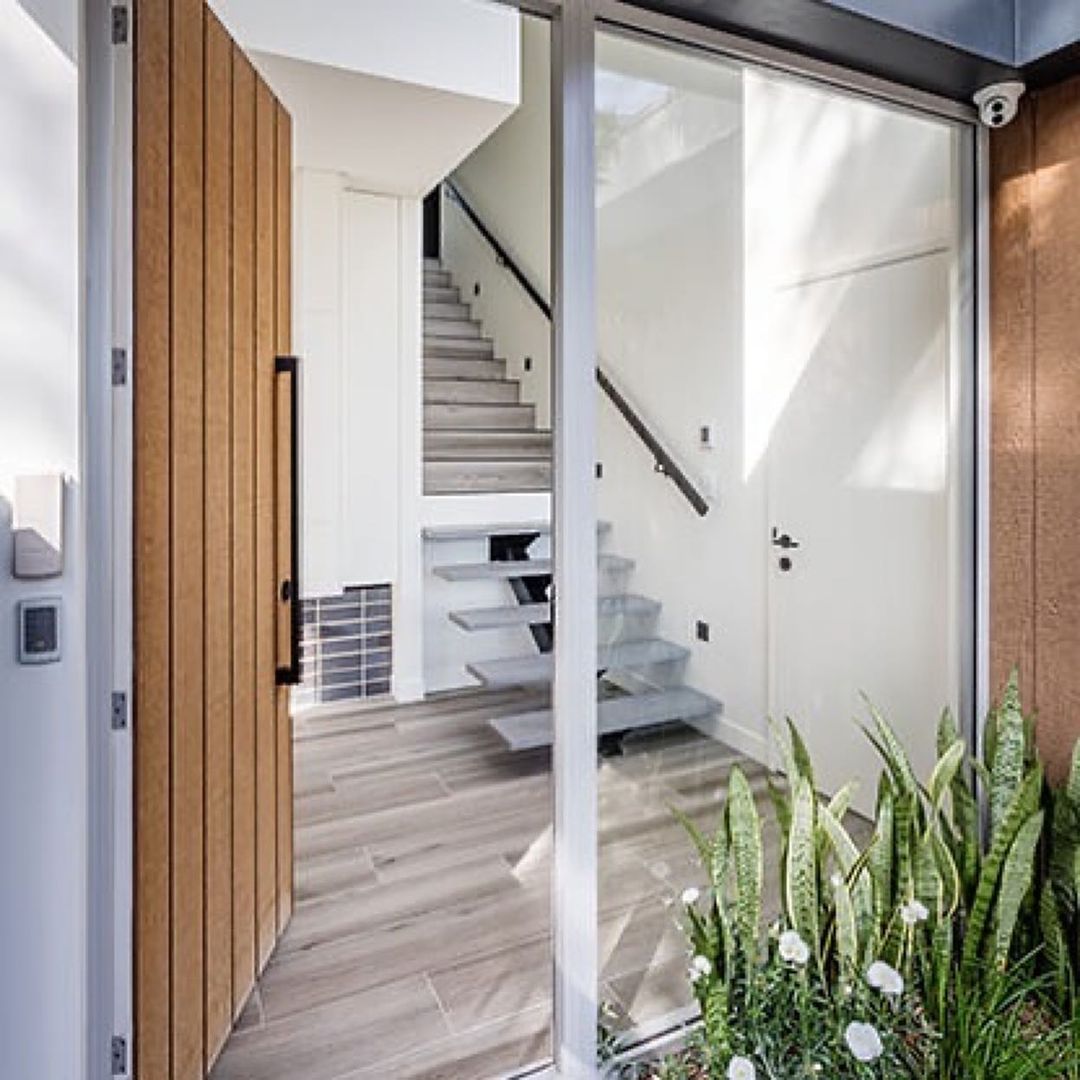 Function
Now you know the style and finish of your door handle, take a moment to pause and consider the function of the door itself. Ask how the door will be used, and who will be using it. Family and friends? Employees and clients? Those with special needs? As we have mentioned above, we know that door levers are better suited in situations where users have poor grip strength or dexterity. Go further and decide on the four functions a door handle can offer to decide the right fit:
Passage handle set

– largely for use inside the home's communal areas, such as with bedrooms, kitchens and cupboards that are constantly opening and closing without the need for a locking mechanism.

Entry handle set

– as the name suggests, these are typically reserved for the front and back doors providing entrance to the property, fitted with locks requiring keys.

Privacy handle set

– internal rooms that often require privacy, such as bathrooms and bedrooms, can have handles with locks holding an 'inside button' or turn knob that will lock out those on the outside (although most will also offer an emergency feature to unlock from the outside if necessary).

Dummy handle set

– available in both levers and knobs, dummy handle sets are fixed handles that can open and close a door without the need for a traditional latch, typically found on 'inactive' doors.
With this decided, draw your attention to the set-up of the doors you have selected and see if there are any other demands for your handles you may not have initially realised. For example, you might find your door is extra thick, requiring above-average dimensions, or find that your exterior doors only have one hole dedicated for handles and hardware, meaning you may need to introduce a keyless hardware option, or contact a professional to cut a second hole for a deadbolt.
Security
A door handle is an integral part of a house or apartment that can be used by residents to exit/enter their home, but it is also critical for the security of the building. Often, people will install their own security systems (alarms and surveillance) and locks (deadbolts) on doors and windows, however, they sometimes neglect the simple parts like door handles. A high-quality door handle can provide additional safety and protection for your home.
Building on the previous discussion around function, start to appreciate how much security you are going to need to introduce into your property, and select the handle sets that will deliver it. Is your project for a new home with a standard front door, or are you renovating an office that is likely to hold a range of expensive technology and sensitive data inside?
Here are some popular locks you can consider to pair with your door handles for adequate security in your property:



Mortise Locks
Mortise locks are widely considered the most secure locks to install in your front and rear entry door handle sets. 'Mortise' is actually a term coined in the realms of carpentry, referring to the recess cut into the wood of the door for a lock that can be fitted inside, creating a joint. This simple action of placing the lock itself inside the door, rather than fitted on the door's surface, means that you can utilise the entire strength of the door against force and stress applied to it.
Tubular Locks
Tubular locks continue to find popularity in the industry as they do not require professional installation. They are a cylinder lock with keyed access holes, or 'ports', through the sides of its housing. Unfortunately, while they can provide a great deal of protection, they are still a simple entry system, providing greater ease for intruders to gain access.
Electronic Locks
Advancements in the industry have led to a range of exciting and sophisticated introductions in the world of smart and digital locking systems. Door handles can now be fitted with PIN codes and RFID detection capabilities, removing the need for keys in place of fobs and swipe cards, and even connect directly with smartphones using Bluetooth or Wi-Fi, allowing owners to not only open and close doors, but track the activity from wherever they are on the planet. While considerably more expensive, this can prove a seamless feature point of modern homes and workplaces, as well as providing greater levels of diversified barriers preventing intruders.
Installation, Care & Maintenance
Are you good with your hands and have a range of well-used tools available on hand? Do you have the technical savvy to introduce and set up electronic systems into your property? While some of us might have an overestimation of our abilities, it is important to take a beat and consider the complexity of our options.
Should we attempt to install them ourselves – and fail – then we can risk damaging the doors or the handles themselves, either leading to replacements being needed or living with damaged products, right from the get-go. Similarly, if you will need a professional to come to the property and help you with installation, be sure to allocate plenty of time for them to plan their arrival, so there is minimal downtime.
The same applies to the ongoing care and maintenance of your handles. Depending on your finishes and the environments they are in, you might notice anything from a build-up of hand smudges and discolouration, to severe weather damage. Be consistent with your polishing, oiling, or even changing batteries, to ensure you prolong the longevity and useful life of your door handles.
Budget
By now, you should have a fairly comprehensive idea about the type of door handles you want to introduce into your property. Your list of options will be heavily cut down and influenced by the greater architectural style of your property, the functions of the door handles and the rooms they are attached to, as well as the levels of security you require for the property.
The deciding factor will be the budget you have available.
You may already have a firm financial figure attached to the door handles in your wider build/renovation budget, or perhaps a more flexible estimate in mind. Regardless, be conscious of just how much you are going to use these handles – hundreds, if not thousands of times a year. Opting for cheaper options now might end up costing you later down the road, especially if they are uncomfortable or unpractical to use and need replacing. Similarly, if you have made a considerable investment in the quality of your doors and surroundings, then poor quality door handles will detract from the wider value of the space, rather than add to it.
Find an amount you are comfortable with that won't compromise the rest of your project, but will ensure you are happy with the choice you have made for years to come.
Learn More on Our Selection of Door Handles for Your Property
To learn more about our options of door handles available, and further information to help make the right decision for your property, contact the professionals at Keeler Hardware today by calling (02) 8966 5966, or leave your details on our online enquiry form.