Australian Owned

Locally Stocked

FAST & FREE DELIVERY*

Phone support
Buying Guide to Period Hardware
Date Posted:12 January 2022


Whether you are building your first family home, modernising your current property, or trying something a little different by embracing aesthetics from by-gone eras, one key decision will be around selecting the ideal period hardware to match your style
The process of designing a new property, or re-imagining an existing one, is both an exciting and taxing endeavour, filled with a variety of difficult decisions to be made around styles, construction materials, and more, all tempered with the budgets and resources available to you. Now that you have completed the foundations of your projects, and sourced a variety of fixtures, you must naturally move on to the finishes – which are the jewellery of the property.

Whether you are building your first family home, modernising your current property, or trying something a little different by embracing aesthetics from by-gone eras, one key decision will be around selecting the ideal period hardware to match your style. Keeler Hardware is one of Australia's leading providers of high-quality hardware for doors, windows, gates, bathrooms, cabinets, and so much more. To help make your decision, we have compiled this comprehensive buyer's guide to period hardware, introducing a variety of finish options and architectural styles to help ensure you might the right choice.
The Importance of Selecting the Right Finishes For a Project
A home is so much more than a series of walls, flooring options and roofing. It is a space expressing the unique style or vision from its creator, and over the many centuries of architecture, there are so many details and options that can be included to help cement that 'look'.
Before you go searching for the perfect inclusions on the market, there are a few things you must first consider to be best-informed throughout your decision-making process.
Understanding the Terminology
You may encounter a surprising amount of jargon when researching the period hardware options available on the market. To avoid getting lost and confused, here is some commonly used terminology to be aware of:
Deadbolt:

the locking mechanism opened by the rotation of a lock cylinder using keys.

Deadbolt Strike / Strike Plate:

An aesthetic cover over the door jamb with holes for the bolts.

Centre to Centre (CC) Measurement:

The measurement between the centre of the spindle and the lock hole to assist when fitting the lock itself.

Latch:

The mechanical fastener to keep doors shut.

Latch Strike:

Aligned with the lockset to offer the latch space to rest in when doors are closed.

Door Lever:

Also known as the door 'handle', which is turned or pulled to operate the latch, thereby opening or closing the door.

Weatherstrip/Seal:

A rubber or metal strip sealing the door or window from external materials (such as rain, noise or pests).

Thumb Turn:

A small, oval-shaped knob used to activate a lock or bolt.
Door Handling & Measurements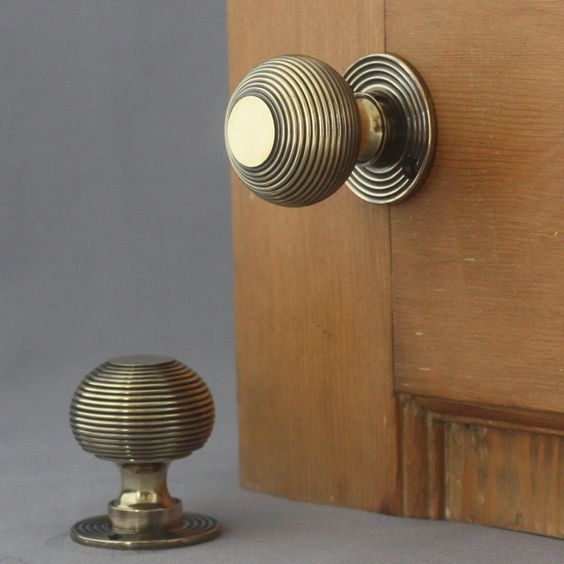 It might seem trivial, but lend some consideration to how you wish for your doors to operate. When you are set to order your hardware, or your hardware is handed (i.e. some locks and hinges) the handling can be the differentiating factor, as it will ensure the correct operation of the door. Some door hardware is universal, but in some cases, if the hardware is handed, you need to select the correct handing. This will ensure the hardware is not fitted on the wrong sides, upside down, or pointing in the wrong direction, meaning proper function of your door simply won't be possible until replacements arrive. Be aware if you have opted for French Doors, most are rebated and require a rebate kit for the lock or latch. Also, if you are going to use a lever handle on the non-active door, ensure that you have the correct handing.
Style & Aesthetics
While many architectural styles exist (see below), there are a variety of finishes utilised to achieve the desired aesthetics. Particularly when you are considering period hardware, you need to ensure you are selecting the right finish that gives the desired impression to onlookers. These include:
| | | | |
| --- | --- | --- | --- |
| Finishes | Aesthetic | Durability | Longevity |
| Polished Brass | Provides a classic, golden shine with warm accents, pairing well with cabinets, cupboards, and other hardware options. | As the brass is sealed with a lacquer coating, it proves highly resilient to daily usage. Unfortunately, due to its shiny finish, smudges and fingerprints can be visible without consistent cleaning. | The finish will gradually age, tarnish and dull over time, creating what many actually admire as a 'unique' charm. |
| Unlacquered Brass | Embracing its rosy roots, unlacquered brass provides a raw, rustic style to a space. Overtime, the edges can develop a signature 'worn' look. | Unlacquered brass requires more maintenance and upkeep, with brass cleaner needing to be applied to prolong the desired shine. | As a living finish, unlacquered brass will develop discolouration and amorphous shapes on the exterior with time and use. |
| Antique Brass | Delivers a distinct patina aesthetic, offering the impression of great age, reverence, and as the name suggests, works well with antique designs. Often different pieces will hold their own unique style. | The brass is aged using special chemicals before being sealed with a low lustre finish, allowing for the hardware to never need changing. | The living finish of antique brass is purposefully designed to wear and age naturally, as it helps to add depth and unique colour variations. |
| Stainless Steel | Works wonders in outdoor kitchen and dining areas, as it can be paired seamlessly with other similar appliances to create a professionally equipped appearance. | Solid stainless steel is famously resistant to most corrosive substances, and incredibly sturdy in its makeup, making it a highly durable option. | With the high durability element, and the fact that the hardware is not usually sealed, the finish can receive frequent polishing and even sanding to eliminate surface scratches, resulting in a longer useful life. |
| Polished Chrome | Polished chrome is universally sleek, clean and adaptable. It reflects light wonderfully well in bathroom and kitchen spaces, providing a highly polished ambiance not possible with alternative metals. | Chrome is also corrosion-resistant, scratch-resistant, and tarnish resistant, and is considered such a hearty material, it is even used in industrial applications. | Chrome isn't prone to rust, but it is likely to dull in its shine and begin to show 'pits'. |
| Satin Chrome | Both attractive without imposing on the wider space, Satin chrome's cool blue hues make it a leading choice for modern styles in the residential & commercial market. | As it is built over velvet nickel underlay, Satin Chrome is considered a highly durable finish with strong resistance to common cleaning and household products. | To maintain the aesthetics over a prolonged period, regular maintenance will need to occur, as the satin's iridescence easily shows marks and smudges on the surface. |
| Matte Black | Either brought to life through powder-coating or a special aging process, Matte Black is a modern, yet timeless style choice for elegance. | The material itself is extremely durable, however when encountering other tools, such as during installation, great care needs to be taken to avoid scratches. | If not properly maintained, the black colour will fade overtime, leaving a greyer finish. |
| Gunmetal Grey | Gunmetal grey is a mixture of Chrome & Matte Black finishes. Both captivating and capable of complementing a variety of styles & colour schemes, this is a timeless finish that doesn't steal the show. | Most of the durability from Chrome is passed on to Gunmetal. | Depending on the way that the Gunmetal finish has been applied, the ability to fend off chips and fading will vary. Fortunately, it is dark enough show to most marks, requiring minimal maintenance. |
| Satin Nickel | Satin nickel boasts a delightful and welcoming gold hue to its lacquered shine, yet still pairs remarkably with clean, stainless-steel appliances for a neutral finish. | Satin nickel often has a low lustre lacquer applied once plating is complete, to bring both a cleaner shine to the finish and improve durability. | Given satin nickel is duller in appearance, minimal cleaning and maintenance is required to avoid showing marks and smudges. |
| Polished Nickel | Clean, sharp, silver tones are achieved as the nickel plating on brass is expertly polished. | Nickel products are known to be extremely durable, often used to bring strong aesthetics to applications needing reliable wear resistance. | Nickel does not typically tarnish, leaving minimal needs for ongoing maintenance, or a lacquer coating to prolong the life of the product. |
| Satin Brass (Also Known as Brushed Brass) | Subtle and elegant, satin brass delivers soft, golden glows without the glossy nature of other polished brass products. | Satin brass possesses notable strength, malleability and corrosion-resistance properties, which is why it is adopted for both its practical applications and aesthetic appeal. | It is common for satin brass to receive a lacquer coating that adds to its longevity, and leaves the likelihood of patina over time considerably reduced. |
| Antique Copper | Antique copper embraces the tarnish look with natural, dark brown tones, establishing a warm, rustic ambiance in the surrounding styles. | Copper was the first metal humankind learnt to wield, thanks to its incredible strength and corrosion resistance. | Copper can accumulate a range of dirt that needs regular care and cleaning, but as it contains little iron, you need never have a concern of rust. |
Finding the Right Period Hardware for Your Architectural Style

Now that you are more informed on the industry and the finish options available to you, it is important to recognise the architectural style you wish to emulate with your property, and apply the appropriate period hardware to align with it.
Architectural Style

Period

Style

Hardware

Victorian

1820 - 1910

- Intricate details and ornate designs
- Steep roofs, turrets, verandas & bay windows

- Opulent Features
- Lever style handles
- Wave patterns were popular, and fittings were ornate

Bungalow

1900 - 1950

- Inspired by one-storey cottages
- Low-pitched roof, horizontal eaves, and open floor plans.
- Constructed with natural materials

- Oval doorknobs and longer backplates
- A bit of flair, but not as decorative as Edwardian homes

Art Deco

1920 - Onwards

- Experimental designs & bold colours
- Geometric shapes, symmetrical designs, and strong use of glass and metal
- Tones of luxury & glamour

- Bold and opulent look featuring strong lines and geometric patterns
- Long angular backplates that often feature linear decoration

Contemporary

1950s - Onwards

- Combination of modernism & regional inspirations
- Clean lines, visible structures, and long windows within a simplistic, elegant design
- Exteriors opt for bold colours, while the interior houses neutral shades

- Sleek lines
- Wide variety of finishes

Hamptons

Modern Designs

- Large windows & bright chic blues and whites
- Exterior and floors consisting completely of timber
- High ceilings, natural light, and well-equipped features to give the impression of resort-living

- Resort-living styles & features
- Ornamental or minimalist styles
- Chrome or nickel finishes

Colonial

1600s - 1700s

- Suited for warmer climates
- Wood & brick exteriors, shutters and a steep roof enclose spacious interiors
- Wide porches & strong ventilation
- Steeped in nostalgia

- Experiment with embellished designs to capture classic style points
- Living finishes to develop unique colour variations

Queenslander

1840 - Onwards

- Ideal for tropical climates
- High-set, detached, timber frame properties on separated blocks
- Iron included to minimise the impact of sun rays
- Open verandas and wide eaves are utilised for air circulation and shading

- Standard, minimalist designs
- Non-decorative backplates
- Durable stainless-steel finishes to combat the sea-salt in the air

Mediterranean

1920 - Onwards

- Arched windows and doors set in horizontal lines
- Flat roofs made of clay tiles or wooden panels
- Continuous balconies and large, landscaped courtyards

- Pair with elegant, antique fixtures and fittings
- Ornate lever style handles
- Decorative design on the backplates with antique brass finishes

French Provincial

1600s - Onwards

- Rustic ambiance with exposed beams and stone walls
- Highly versatile to customise roofing, window styles, colours and finishes

- Character-driven lever handles
- Refined backplates

Mid Century Modern

1950 - Onwards

- Minimalist designs, utilising natural materials like stone and hardwood floors
- Flat roofs and large glass-paned entryways

- Minimalist, retro designs
- Draw focus on the clean lines, contours and angles with the design

Farmhouse

1700s - Onwards

- Delivers sense of charm, beauty and warmth
- Single storey homes with open living plans
- Kitchen is divided from the rest of the home by walls, with features running along tabletops and cabinets for collaborative cooking

- Traditional barn door handles constructed with aged brass finishes
- Lever handles placed higher on backplates, with bronze, graphite nickel or brass finish options
Victorian
The Victorian style was popularized during the reign of Queen Victoria herself, and features intricate details and ornate designs. Homes and other buildings from this period are often characterised by their steep roofs, turrets, verandas and bay windows. They are also known, by modern standards, for elaborate and complex designs, which often includes very opulent features. Homes decorated in this style often have rooflines with multiple peaks and gables. The interior of the home is typically designed with well-proportioned rooms and furnishings that are elegant and practical to accommodate 'well-to-do' families.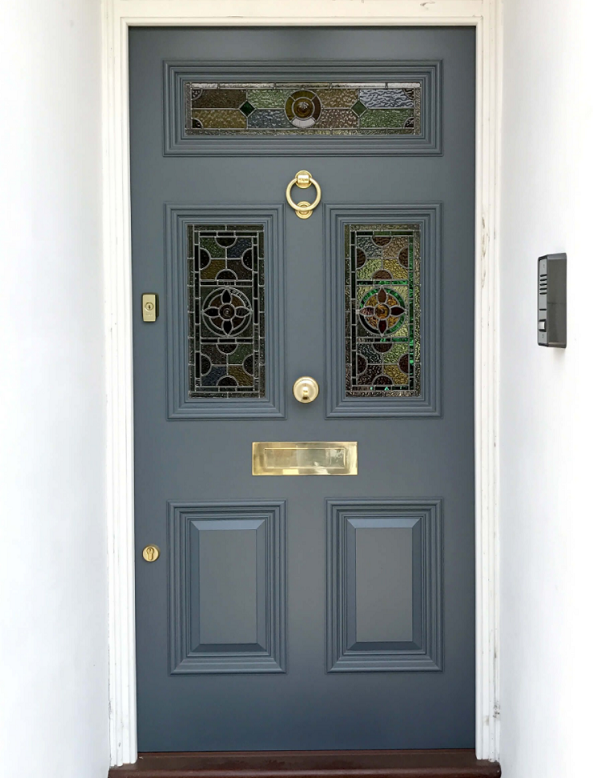 Hardware that works wonderfully in Victorian style homes are lever-style handles set against plain or decorative backplates, with ornate, embellished wave patterns applied to the fittings.
Bungalow
The bungalow architectural style is a one-story, cottage-inspired design that was popularized in the early 20th century. Characteristics of this style include a low-pitched roof, horizontal eaves, and an open floor plan. Bungalows are often constructed with natural materials such as wood or stone, and many feature professional, custom-crafted details like tapered porch columns and exposed rafter tails. Bungalow homes also typically have large windows that let in an abundance of warm, natural light. Think of hardware that embraces oval doorknobs and longer backplates, sporting just a bit of flair, but nothing too decorative that borders on regal.
Art Deco
The Art Deco architectural style flourished in the 1920s and 1930s, with its influence persisting to this day. Born in Paris, this was a showcase for all types of new, experimental designs, with many buildings and structures adopting geometric shapes, symmetry, bold colours, and increased usage of metal and glass.
Art Deco was also an era of luxury and glamour with lavish materials such as marble, brass, chrome and glass often being used. As a result, opt for hardware that continues those bold and opulent themes that also embrace strong lines and geometric patterns. There will be a variety of sleek and noticeable edges, placed against long, angular backplates featuring linear decoration.
Contemporary
Contemporary design styles emerged around the 1950s and continue to evolve. It incorporates elements of modernism and regional inspirations, but uses them with large scale pieces of architecture.
Today, contemporary homes use clean lines for suiting purposes. The home's structure is highly visible because windows are often made up of floor to ceiling panels, walls are kitted out with long windows. Contemporary homes paint their exteriors using bold colours to contrast the interior spaces, which adopt neutral shades such as beige, white and grey.
Contemporary interiors maintain an appearance of simplicity and elegance. Furniture rarely has overbearing designs and colour schemes are kept understated. Open floor plans, minimalist styles and the use of natural materials such as woodwork well in contemporary homes. Be sure to include hardware the continues the sleek lines, but feel brave enough to explore a wide variety of possible finishes. Popular options are knurled finishes with satin brass.
Hamptons
The Hamptons architectural style originates in the eastern part of Long Island, New York. The houses that are built in this architectural style stand out due to their large windows and bright colours of chic blues and off-whites, sometimes with exteriors and flooring made completely of timber.
Hamptons homes typically feature high ceilings, lots of natural light, and extensive walk-in closets. Their kitchens always include high-end appliances such as stainless-steel refrigerators with icemakers, double ovens, ceramic tile backsplashes, sub-zero refrigerators or freezers, gas ranges or electric stoves, dishwashers and warming drawers. Most homes will also include a fireplace in the living room to create cosy winter nights for homeowners and guests alike. Keep the resort living going with hardware that has ornamental or minimalist styles, applying finishes such as chrome or nickel.
Colonial





The Colonial style has been around for centuries and is often used in warmer climates, as it features wide porches and plenty of ventilation. The exterior of a Colonial-style home is typically made of wood or brick, with shutters and a steep roof, while the interior is typically very spacious, with high ceilings and large windows. There is usually a formal living room and dining room, as well as a family room.
If you are amid a nostalgia-driven, Colonial revival with your property, your choice of hardware simply has to embrace the styles of traditional homes from the 17th & 18th centuries, while still meshing with modern belongings. Experiment with embellished designs for the classic look, made from living finishes that develop unique colour varieties over time.
Queenslander
The term "Queenslander" generally refers to any dwelling that has been designed and constructed according to the traditional building methods of the tropical climates where it was first used, particularly in Queensland and other parts of northern Australia, where they have high-set, detached, timber-framed homes on separate blocks of land. There is also a healthy inclusion of iron that, when painted white, is an effective weapon in combatting the sun's extensive UV rays.
Today's Queenslander houses are an evolution of the original design, typically using modern materials such as steel and concrete while still retaining their classic exterior. Many will also adopt open verandas which allow air to circulate and help keep the home cooler in the summer months. The wide eaves also provide shade from the sun, reducing the need for air conditioning. Gables are often used in place of eaves to allow airflow and better ventilation, while French doors and louvred windows provide natural light and cross-ventilation. The use of timber in construction also helps to keep the home cool as it is a natural insulator. The hardware here is relatively simple, with standard, non-decorative backplates, and durable stainless-steel finishes, remaining unimpaired by the salty sea air.
Mediterranean
This Mediterranean style is featured by tall windows in long horizontal lines, flat roofs with clay tiles or wood panels and wide eaves supported by marble columns, stucco walls, and grand staircases open to the exterior. Several distinctive elements are found throughout buildings, including continuous balconies on upper floors, looking out at landscaped courtyards below, window treatment consisting of either wrought iron grills with small glass panes, doorways recessed into large arches, and central placement on the façade. Arches are very common, in fact, both the classic round style and Byzantine pointed horseshoe arches.
The interiors of these properties are likely to be a mixture of classic elegance and eclectic personalisation. Antique fixtures, fittings and finishes work terrifically in these spaces, so be sure to select hardware that embraces the ornate levers, decorative designs on backplates and antique brass finishes.
French Provincial
The French Provincial architectural style is one of the most popular styles in the world. Hailing from the Provence region, it features a rustic look with exposed beams and stone walls. It is perfect for homes in rural areas, but can also be used in urban areas to create a country-style feel when large gardens are available. The versatility it offers allows many options for customisation with roofing, window styles, door styles, colours, and finishes. Homes are then imbued with a warm, friendly ambience by the inclusion of elegant furniture, creative patterns and earthy tones and colours. Hardware should continue this, so try out different options with elaborate, character-driven lever- handles and refined backplates.
Mid Century Modern
The Mid Century Modern architectural style has been popular for homes all over the world since its introduction in the mid 20th century. One of the defining characteristics for houses built in this style is minimalist, clean line work that often features flat roofs and large glass-paned entryways. This design is well suited to warm climates because it manages heat quite well. Materials used within this architectural style are typically natural materials like stone or hardwood floors. Because this particular house was designed at a time when there were few energy-efficient appliances available, it's important to keep an eye on insulation and properly seal windows before cold weather sets in. Many homeowners find themselves removing decades-old carpeting due to extreme heat during summer months, opting for hardwood or stone flooring that allows the air to circulate.
When it comes to hardware for Mid Century Modern homes, less is more. Old retro designs from the 1940s, '50s and '60s return with a heavy focus on the clean lines, contours and angles.
Farmhouse
The farmhouse architectural style is one of charm and beauty, making it a favourite to many who are looking for that cosy feel in their home. These homes are usually either 1 storey, with the living room open plan, and no walls separating it from the dining area, which may also be an open plan. The kitchen, on the other hand, has visible walls dividing it from both areas. Many have countertop space running along with the cabinets so that tasks can be done while seated on stools or chairs attached directly without invading any personal space. Achieving this kind of flow in a small area takes some careful planning, but can be very useful for the family that likes to cook together.
Another of the distinguishing features of the farmhouse architectural style is the use of natural materials. The exterior is often clad in wooden shingles, and there is a lot of emphasis on using natural stone around entries and chimneys. Windows are often big and inviting, with lots of light allowed into the home. Shutters are also common additions, as they provide both functionality and aesthetic appeal.
When it comes to decorating a farmhouse-style home, think of primitive simplicity. Country furniture, textiles, and accessories with muted colours will help you achieve this look. You may also want to consider adding some antiques for a bit of old-world charm. And with your hardware, you can opt for the traditional 'barn door' handles made from aged brass, or instead opt for lever handles that are placed higher on the backplate, sporting more bronze, graphite nickel, or one of the various brass options to instil a bit of character.
Important Considerations to Match Rest of the Project
Hopefully, you will now have some more insight on the particular period hardware you will be selecting for your doors to align with the architectural style of the wider property. But don't forget; once you choose your doors, to own the 'look' you are trying to achieve, you need to have consistent hardware throughout your property. Door hardware should be consistent with the front doors, cabinets, bathrooms, windows and anywhere else in the home to create a cohesive motif.
Work with Keeler Hardware for All Your Period Hardware Needs
The staff at Keeler Hardware have a wealth of experience sourcing the right hardware for our clients' needs across Australia. If you need further assistance finding the right piece for you, or would like to secure matching hardware throughout your house, please review our extensive online selection, or contact one of our knowledgeable staff members today. We can be reached by calling (02) 8966 5966, or leaving your information on our online enquiry form, and we will get back to you as soon as possible.